Clear braces and aligners are removable orthodontic accessories that are used to close large gaps between teeth or straighten teeth. The clear aligners work similarly to traditional braces despite being almost "invisible". But how does it work?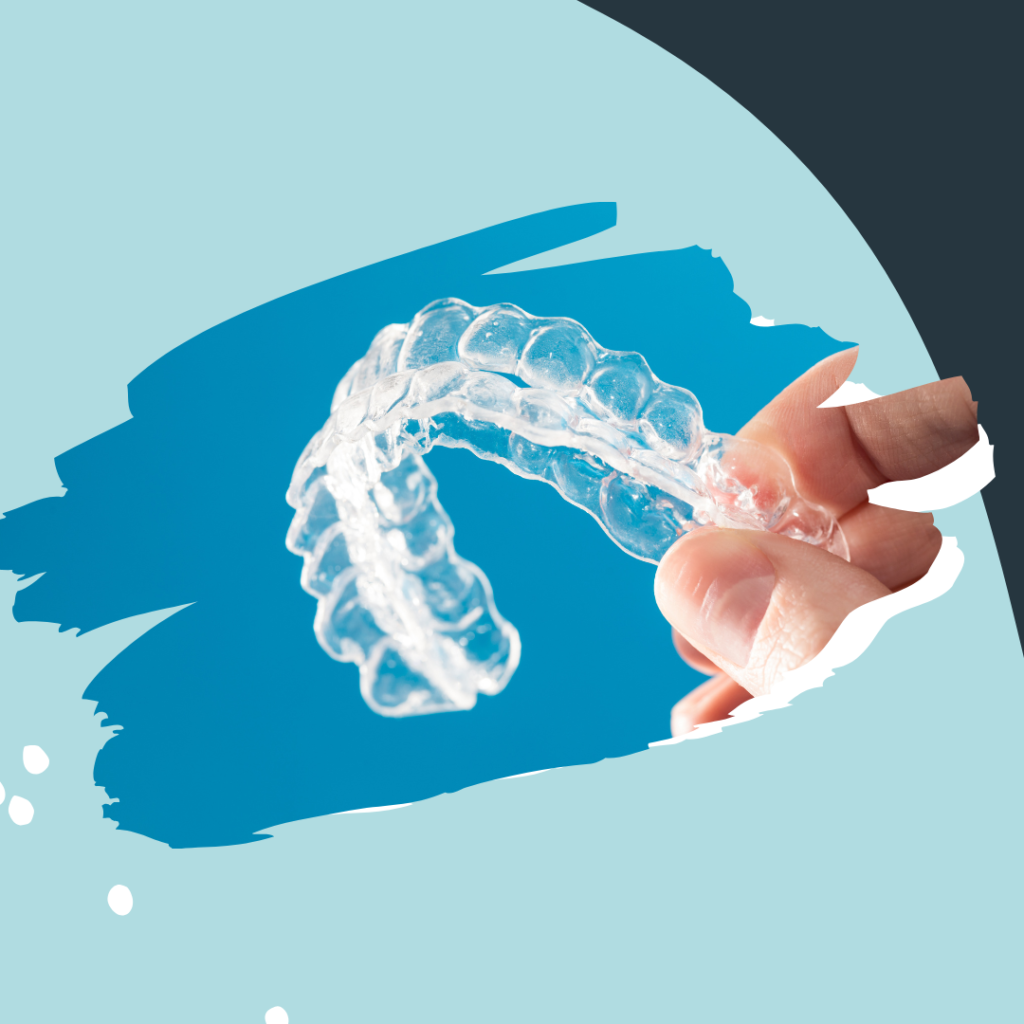 Clear aligners are clear teeth straightening appliances that are used to fix gaps. They perform a similar function to braces, but they are more practical because you can have straighter teeth covertly and they are detachable. It has numerous benefits for people who don't want to deal with any disturbances and is less obvious than conventional braces.
These invisible dental braces, also known as clear aligners, are preferable to the more common wire-and-bracket aligners since they don't affect how you eat. After removing them for a while, you can continue to eat and enjoy all of your favourite food, as well as brush and floss in the same manner. Additionally, you can smile widely as your clear aligners correct your teeth without worrying about having a metallic smile. A further benefit of having properly aligned teeth is that it lowers your risk of experiencing excessive tooth wear. Moreover, it facilitates the elimination of plaque from your teeth, the buildup of which can cause gum conditions and tooth decay.
Using NEW SLX Clear Aligners technology, the dentist can take pictures of the patient's mouth to create clear aligners that will move their teeth into the proper position. Clear Aligners treatment uses a series of moulds that, over several months, force your teeth into their new and improved function. A patient may have to use up to 25 trays for 25-50 weeks of treatment to achieve the expected result.
Refer to this article to get more information.
Are Clear Aligners Safe?
Clear Aligners treatment is frequently seen as safe and painless compared to other alignment techniques. The aligner trays are constructed of smooth plastic and have a comfortable design. The therapy is often quicker than conventional techniques, and no metal or bands are involved.
Treatment Process
To provide a better understanding, here are three simple steps for the clear aligners process to demonstrate how it works and is safe.
Step 1
3D scans of your mouth and teeth should be taken to create your individualized aligners treatment plan. With the new SLX® Clear Aligner system, our professional dentist in Hi-Tech Family Dentistry will demonstrate how your teeth currently look and how they will change as the treatment progresses. Once the 3D scans are taken, we will continue with the next steps.
Step 2
The iconic aligner trays are made and moulded during one of the most crucial processes in the aligners procedure. To avoid irritating or bothering your mouth during treatment, aligners are made of smooth plastic and specifically created for your mouth. These aligners are not permanent; they are intended to be changed every two weeks during the therapy.
Step 3
Wearing your aligner trays is the last and easiest step of the process. As previously mentioned, clear aligner trays are made of smooth, soft plastic and are meant to be worn for two weeks before being replaced. This implies that a typical patient will replace trays 25 times during their 25-50 week treatment (case by case). Although this may seem excessive, the procedure is intended to straighten out mismatched teeth throughout the treatment, necessitating minor adjustments to the aligners along the way.
Tips for maintaining and protecting your teeth.
Wear your aligners for up to 22 hours a day
Don't drink or eat while the aligners are on your teeth, except for water.
Don't smoke with the clear aligners.
Use a soft brush to clean the trays before wearing it again.
Always clean your trays properly before and after brushing your teeth to remove bacteria and bad smells.
Always clean and floss your teeth before putting the aligners back.
Visit the dentist as scheduled to get a checkup.
Who is suitable for Clear Aligners?
In general, Clear Aligners treatment is suitable for anyone with mild to moderate crowded or crooked teeth, who wants to improve their teeth position and smile. This is particularly useful for people who are often shy and self-conscious. Besides, we highly recommend you avoid this treatment if you are a heavy smoker.
Why should we choose Hi-Tech Family Dentistry for Clear Aligners?
Hi-Tech Family Dentistry is one of the most trusted and experienced dental clinics in Saint John which focuses on advanced technology, called the NEW SLX® Clear Aligner system. This is uniquely clear, provides an excellent fit, and offers numerous workflow and treatment efficiencies.
We are aware of the value of the local population's dentistry and oral health because we provide dental care for so many local families. We make every effort to keep our costs affordable to ensure our service is accessible to as many individuals as possible.
Hi-Tech Family Dentistry is a group of highly trained, positive, and certified professionals committed to providing the best dental care in Saint John, NB. We provide complete family care in a friendly environment. To get any additional inquiries concerning the Clear Aligners procedure answered, contact us today!
When you choose Hi-Tech Family Dentistry, we guarantee your family's needs are met!